Survey of Retail Supply Chain Leaders supported with interviews and insights from a group of supply chain experts!
Report :

Robotics in Retail Supply Chain
Robots have arrived in the Supply Chain and they have the potential to create more productive, efficient and profitable distribution centres.
This study by Retail Hive in partnership with GreyOrange looks into the details of what's driving the retail model to change and how the leaders in the industry are thinking about using robotic based automation to get ahead of the curve.
Key highlights:
• Mechanization and Automation in supply chain 2022
• Insights on key drivers and barriers to automation
• Available investment models: Lease vs Buy
• Partnership and business case for automation
Download your free report Here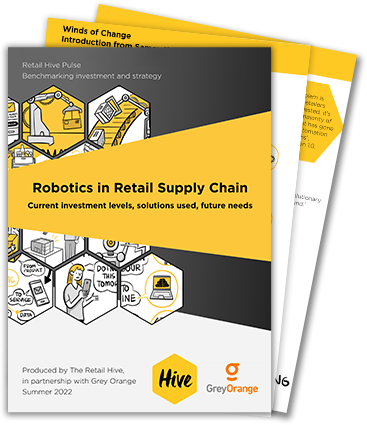 GreyOrange enables every distribution hub in the world with state-of-the-art robotic orchestration solutions, designed to continually optimize their fulfilment operations and provide them with the flexibility they need to operate at maximum efficiency

Produced by The Retail Hive,
in partnership with GreyOrange Summer 2022